Download Diploma in Medical X-Ray Technician and National Diploma in Imaging Technology National Board Qualifying Examination Past Question
Medical imaging, also known as radiology, is the field of medicine in which medical professionals recreate various images of parts of the body for diagnostic or treatment purposes. Medical imaging procedures include non-invasive tests that allow doctors to diagnose injuries and diseases without being intrusive.
Medical imaging is a central part of the improved outcomes of modern medicine. Different types of medical imaging procedures include:
X-rays
Magnetic resonance imaging (MRI)
Ultrasounds
Endoscopy
Tactile imaging
Computerized tomography (CT scan)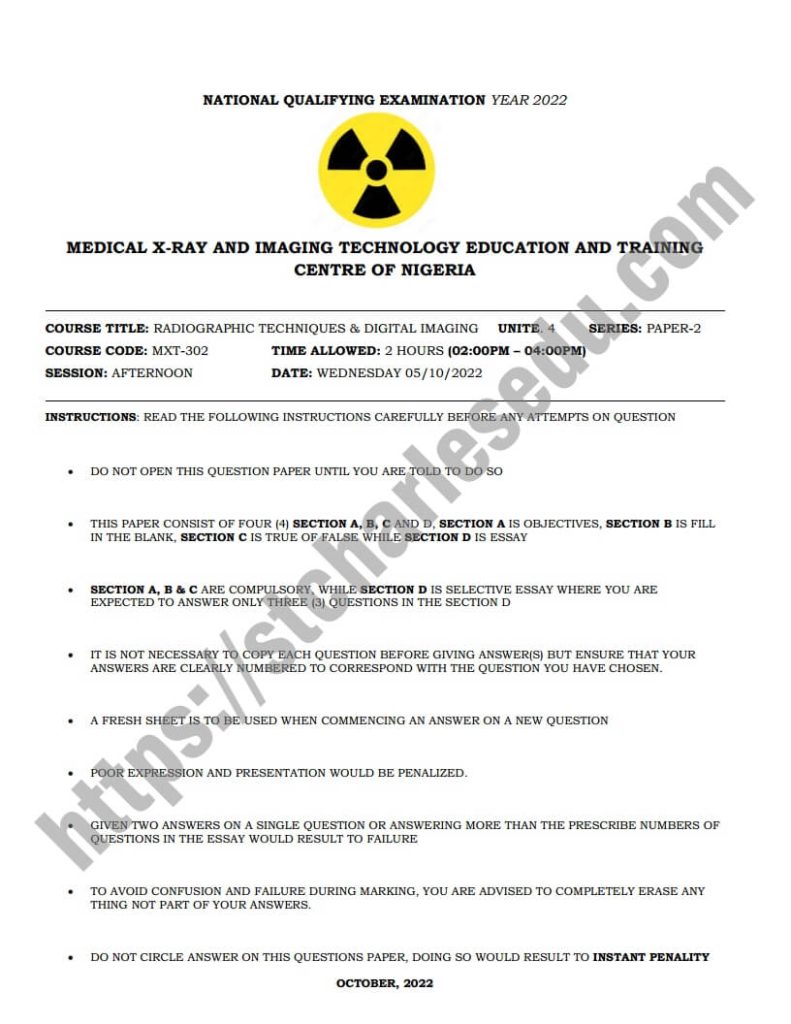 Diploma Medical X-Ray Technician Past Question
Medical Imaging Technician
Course Duration: 3 Years
Entry Qualification:
Three (3) 'O' Level Credit Passes, Biology, Chemistry and Physics with a pass in English Language and Mathematics at WAEC or NECO in not more than two (2) sittings.
National Diploma Medical Imaging Technology Past Questions
Medical Imaging Technology
Course Duration: 3 years
Entry Qualification:
Minimum of lower credit in Darkroom Technician as well as five(5) O-Level credit passes in English Language, Mathematics, Physics, Chemistry and Biology/Health Science.
The above requirements is for Direct Entry Admission while fresh applications must possess a minimum of five credit passes in WAEC, GCE or NECO which must include English Language, Mathematics, Chemistry, Physics and Biology/Health Science plus pass in JAMB
Radiography Bard Exam Questions
PROSPECTS
Upon successful completion of the programme, graduates of the programme will be expected to work in Radiography department in University Teaching Hospitals, Federal Medical Centres, General Hospitals, and also work in private hospitals and Radio diagnostic Centres.
Graduates of Medical Image Processing (Darkroom Technicians Program) will proceed to the University on direct entry to study Radiography.
National Qualifying Examination for Medical X-Ray and Imaging Technology
List of Courses, Course Code and Title
MXT302 – Radiographic Techniques and Digital Imaging
MXT301 – Anatomy and Physiology
MXT303 – Medical Image Processing
MXT304 – Physics and Radiography Equipment
MXT305 – Radiation Protection and Patent Care
Medical X-Ray and Imaging National Exam Section Feature Section A – D
Total Time Allowed: 2 Hours
Total Marks: 100 (Section A: 20 Marks | Section B: 10 Marks | Section C: 10 Marks | Section D: 60 Marks)
Answer all questions in the Examination booklet
Answer all questions in INK ONLY
Section A:
Objective Questions,
20 Mark,
Time allowed 30 minutes, each questions carries one mark (30 Marks)
Section B
fill in the blank spaces,
10 marks
Time Allowed 15 minutes.
Section C
True/False
10 marks
Time allowed 15 minutes
Section D
Essay
60 marks
Time allowed 1 hours
Read Also: Download Other WAHEB Exam Past Questions
Download Free Diploma in Medical Imaging Technology Exam Questions
Click to download a free National Qualifying Examination Past Question for Medical X-Ray and Imaging Technology
Link 1 Radiography Exam Questions
Link 2 X-Ray Technician Exam Questions
Link 3 Imaging Technology
To get the up-to-date copy of the past questions paper in pdf format.
Whatsapp +2348051311885 on how to obtain your copy