Download now on this page free Dental Therapists Registration Board of Nigeria DTRBN National Board Final Profession Examination for Dental Surgery Technician Past Questions in PDF.
Do you need dental surgery technician board exam past question paper?
If yes, then you are in the right place.
In order to prepare well for any upcoming exam, student need to get them self familiar with previous exam question.
This is why the need for past question are necessary, to have an idea of what to expect in the real exam.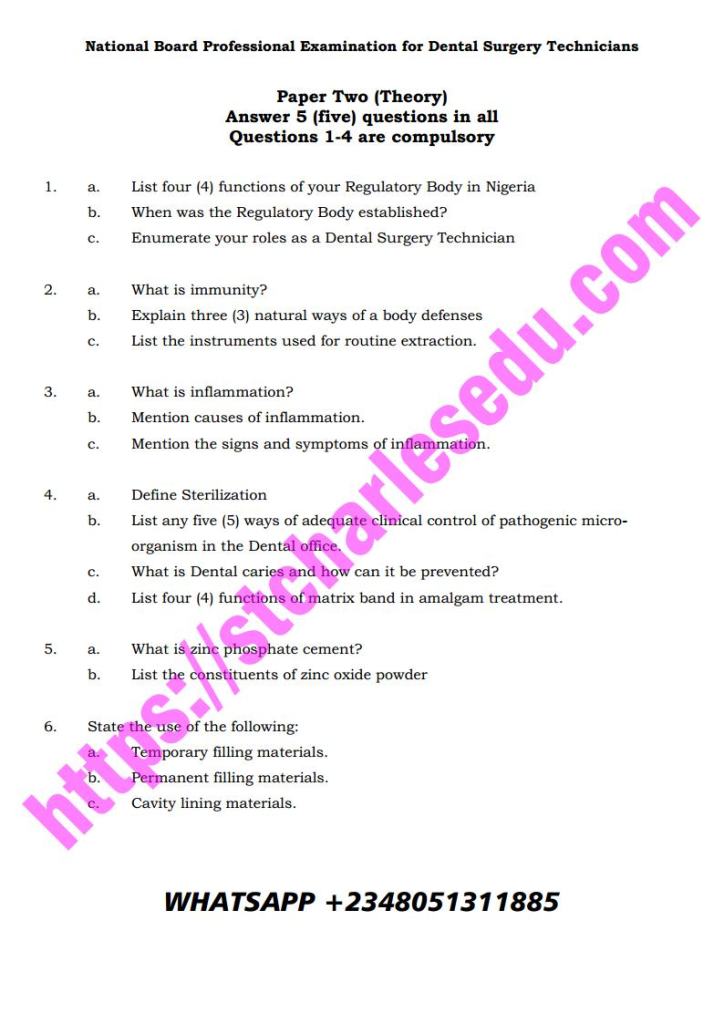 DST Past Questions for Dental Surgery Technician.
Dental Surgery Technician undergo three years professional training in accredited college of health sciences and technology where they obtain Dental Surgery Technician Diploma and later certified professionally by the DTRBN.
The Board set examination annual, usually in Sept/October every year.
DST Professional Exam Entry Requirement
i. Senior Secondary School Certificate Examination(SSCE) result.
All interested applicants/candidates must make at least 5 Credits in Mathematics, English, Physics, Chemistry, Biology, either in WAEC , NECO and NABTEB in not more than 2 sittings.
ii. Dully filled examination forms
iii. 3 Passport photographs with their names written overleaf
iv. Testimonial or To Whom It May Concern
v. Clinical Coats or school uniforms
vi. Examination Fee : Candidates must have duly paid for examination fee which is subject to review
What others are downloading: WAHEB HEP Past Questions
How to Get DTRBN DST Past Question
The newly updated Past Questions for National Board Professional Exam in Dental Surgery Technician are available for download in pdf.
Below are the steps to take to download your copy of the board final year exam past questions.
TAKE ACTION
Whatsapp us on +2348051311885 for the account number to make payment and how to received your copy of the past questions to be sent directly to your email address or whatsapp number.
Mode of Payment.
Mobile Transfer, POS or Direct Bank Deposit.
After Payment
send us the following
Depositor Name:
Name of Product Paid for: DFH Final Exam Past Questions.
Valid email address.
DELIVERY ASSURANCE
We will deliver the past question to you 5 mins after confirmation of payment to the email you will send to us.
Download Free DST Past Questions
Download Link 1: DTRBN DST Past Question
Download Link 2: DTRBN DST Past Question
Download Link 3: 
National Board Professional Examination for Dental Surgery Technicians
Paper Two (Theory)
Answer 5 (five) questions in all
Questions 1-4 are compulsory
1a. List four (4) functions of your Regulatory Body in Nigeria
1b. When was the Regulatory Body established?
1c. Enumerate your roles as a Dental Surgery Technician
2a. What is immunity?
2b. Explain three (3) natural ways of a body defenses
2c. List the instruments used for routine extraction.
3a. What is inflammation?
3b. Mention causes of inflammation.
3c. Mention the signs and symptoms of inflammation.
4a. Define Sterilization
4b. List any five (5) ways of adequate clinical control of pathogenic micro-organism in the Dental office.
4c. What is Dental caries and how can it be prevented?
4d. List four (4) functions of matrix band in amalgam treatment.
5a. What is zinc phosphate cement?
5b. List the constituents of zinc oxide powder
06. State the use of the following:
6a. Temporary filling materials.
6b. Permanent filling materials.
6c. Cavity lining materials.