Download Now! WAEC Literature in English Prose Theory or Essay Question.
Are you writing this upcoming West African Examination Council WAEC, did you registered for the subject Literature in English?
if yes, then one of the sure way of passing this subject easily is to study the exam body council past questions and answer.
we at stcharlesedu.com has compiled a good number of Literature in English WAEC Past Questions and answers in pdf.
What other are downloading WAEC Past Questions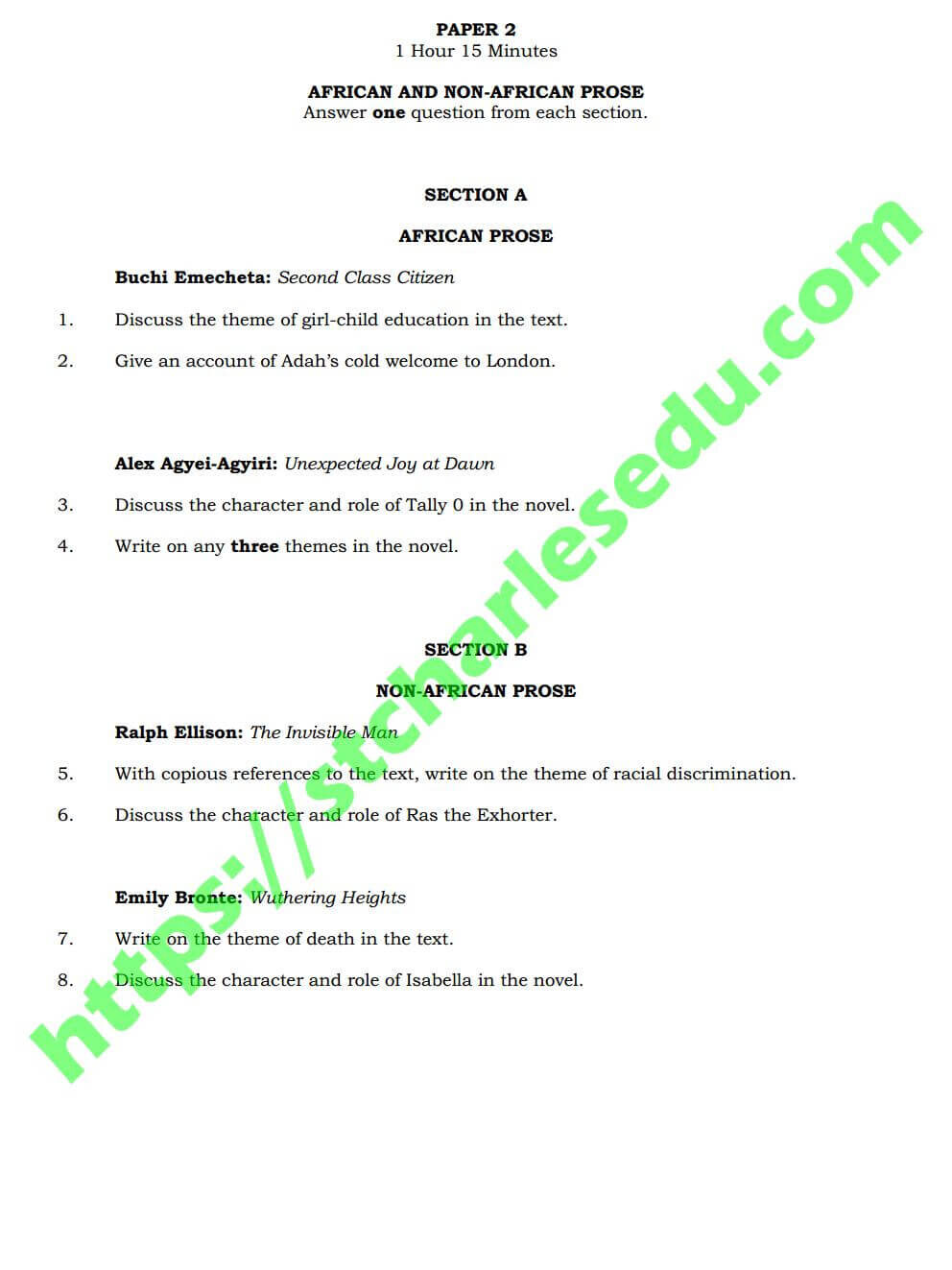 WAEC Literature Prose Question and Answer
PAPER 2
AFRICAN AND NON-AFRICAN PROSE
Answer one question from each section. Each question carries 30 marks.
WAEC Essay Question on African Prose
SECTION A
AFRICAN PROSE
Buchi Emecheta; Second Class Citizen
1. Discuss the theme of girl-child education in the text.
2. Give an account of Adah's cold welcome to London.
Alex Agyei-Agyiri: Unexpected Joy at Dawn
3. Discuss the character and role of Tally 0 in the novel.
4. Write on any three themes in the novel.
WAEC Theory Questions on Non-African Prose
SECTION B
NON-AFRICAN PROSE
Ralph Ellison: The Invisible Man
5. With copious references to the text, write on the theme of racial discrimination.
6. Discuss the character and role of Ras the Exhorter.
Emily Bronte: Wuthering Heights
7. Write on the theme of death in the text.
8. Discuss the character and role of Isabella in the novel.
Free Download WAEC Prose Past Questions
Click to Download your free WAEC Past Question on Literature in English 2 Prose
Link 1 – WAEC Prose Questions Link 2 – WAEC Prose Questions
How to Get WASSCE Literature Past Questions & Answers
Take Action
Call or whatsapp us on 08051311885 for the account number to make payment and how to received your complete copy of the past questions to be sent directly to your email address or whatsapp number.
Mode of Payment.
Mobile Transfer or Direct Bank Deposit.
After Payment
send us the following
Depositor Name:
Name of Product Paid for:
Valid email address.
DELIVERY ASSURANCE
We will deliver the past question to you 5 mins after confirmation of payment to the email you will send to us.