How to Create WAEC School Account through WAEC Offline Registration Software.
You can leave this page open, while you create your WAEC Account profile in another window, and use this as a guide.
SSCE WAEC Account Creation – This article will give you an insight on how to "Create WAEC School Account Profile" for both online and offline registration. Follow the lead below;
For you to carry out this process successful, your system has to be connect to an internet.
WAEC Offline First Time Login.
1. Launch the WAEC Offline Application Software.
Use the following default login details
username. principal
password. school
2. Click on Login to continue.

WAEC Offline Account Creation to Login
3. Supply the following detail
a. School "User Id"
b. Full Name field, add the principal full name or Exam officer full name.
c. e-Mail. used a valid/working email Address.
d. GSM No. School Phone Number or Exam Officer Number.
e. Password. eight character and above.

WAEC Offline Account Creation for Upload
1. Launch the WAEC WASSCE For School Candidates Offline Registration System
2. Click on Administration
3. Click on online upload
4. Click on Signup (new user)
5. Type in the pin given to you after payment at waec office
6. Click on Validate
7. Fill in the detail shown to you correctly, when done, click on submit
Login Info:– User Id, password, Security question and answer.
Examination Officer Info:– Surname, first name, other names, email address, School Phone No, Examination, Officer No.
School Selection Info: – name of School, School type, School Address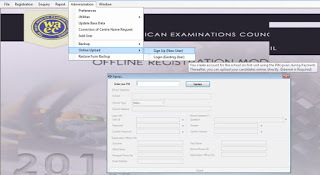 Read Also
How to Create School Profile for WAEC Offline Registration
WAEC Offline Registration Software Free Download
WAEC Exam Time Table
How to Create School Account for WAEC May/June WASSCE School Candidate Online
3. Type in the pin given to you at waec office after payment.
4. Click on Verify Pin, once you click the verify pin in step four, step five provides you with a form to fill in your personal information
5. Fill in all the information as provided by the form. Your School Category, user name, surname, first name, middle name, gsm number, email address, security question and answer, password to login into your waec wassce school account.
6. Once you are sure of all the above information, click on "Create Account".
That's all, your account will be created immediately. You should see a message that says "Your Account Creation Was Successful." You can click on "Proceed to Login" to access your new profile.
Please ensure you crosscheck all the above information, because if you don't, it may cost you to change it in future.