Do you need UNN Postgraduate Screening Test Past Questions? Do you want to download University of Nigeria, Nsukka Aptitude Test past question for the following faculties-
Arts
Agriculture
Basic Medical Sciences
Biological Sciences
Education
Engineering
Environmental Studies
Health Science & Technology
Pharmaceutical Sciences
Social Sciences
Veterinary Medicine
Vocational and Technical Education
Public Health
Then you are on the right page.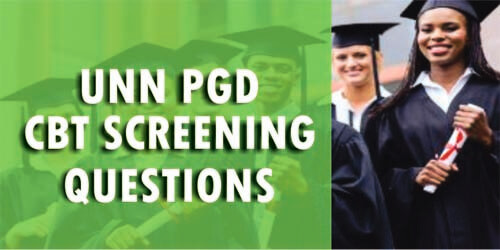 UNN PGD Admission Requirement
a. Students seeking admission into the UNN postgraduate programmes shall sit and pass admission screening examination (Computer Based Test) before he/she will be considered for admission.
(except for Executive/Government sponsored programme and international students).
Questions for the screening entrance examinations shall be based on the candidates' discipline at the Departmental/Faculty level.
b. Cut-off mark are determine by department and faculty, and they are to forward their recommendation via the Faculty Postgraduate Studies Committee to the Board of School of Postgraduate Studies.
c. The carrying capacity of each department determine the number of admission to be given.
Also the availability of approved supervisor and facilities for teaching and research play a role as well
d. Bachelor's degree or Higher National Diploma HND is the minimum qualification to be accepted into any UNN postgraduate programmes.
Candidate must have five (5) O'Level credit passes including English Language and any other four (4) subjects relevant for the first degree admission into that Department.
Candidate must be a graduates of the University of Nigeria, Nsukka or other recognized Universities who possess the above qualifications.
For the PGD in Civil Engineering, Mechanical Engineering, and Architecture, only candidates with University degrees in relevant areas need apply.
e. Candidate with Postgraduate Diploma (PGD) will only seek admission for Master's degree in the Departments that offer PGD programme.
What others are downloading: UNZIK Postgraduate Aptitude Test Past Questions
UNN Postgraduate Admission Form
Applicant are to assess the unn spg portal at unnportal.unn.edu.ng to generate invoice and make payment using the remita platform.
Form are to be filled and submitted online.
Below is the process flow for the application:
Login to the UNN Porta l- unnportal.unn.edu.ng.
Go to postgraduate students.
Select PG form for the current year.
Enter your telephone number.
Fill in your basic details.
Generate Invoice with RRR.
Make payments using the online channel or at the bank.
Come back to online form.
Fill the PG online application form.
Upload all necessary credentials in PDF.
Complete referee form. (Enter correct Emails).
Check the complete details.
Submit form.
Submission of Post Graduate Forms
Most information required would be completed online.
The completed application form with the relevant documents as listed below:-
Photocopies of applicant Qualifying Certificate/Statement of Result and NYSC Discharge Certificate.
Download and print two copies of the application summary form.
One copy of it should be glue on a 10 x 15 brown envelope.
the other copy should be glue on a 9 x 13 white file jacket.
NOTE: glue not staple.
Place the 9 x 13 white file jacket into the 10 x 15 brown envelope
Post or deliver to the following relevant body:
Secretary, School of Postgraduate Studies, University of Nigeria, Nsukka, for Nsukka based faculties.
Candidates for Enugu Campus based faculties are to submit their application forms by post or deliver them to the
Deputy Registrar, School of Postgraduate Unit, University of Nigeria, Enugu Campus.
Mode of Screening for UNN SPGD
All applicants will undergo computer based postgraduate admission screening.
UNN Postgraduate Past Questions – Benefit
Pointer to Area of Concentration.
Predict the outcome of the upcoming exam question.
Let one know if he/she has adequately prepared for the exam.
How to Get University of Nigeria, Nsukka Aptitude Test Past Questions
The cost of the newly updated UNN Aptitude Test Past Questions is 1800.00
Below are the steps to take to download your copy of the entrance exam past questions.
Make a Call
Call or whatsapp us on 08051311885 for the account number to make payment and how to received your complete copy of the past questions to be sent directly to your email address or whatsapp number.
Mode of Payment.
Mobile Transfer, POS and Direct Bank Deposit.
After Payment
Send us the following
Depositor Name:
Name of Product Paid for:
Valid email address.
Call or whatsapp us for your payment verification and confirmation
DELIVERY ASSURANCE
We will deliver the past question to you 10 mins after confirmation of payment to the email you will send to us.