Do you want to download University of Maiduguri Teaching Hospital UMTH School of Nursing Past Questions and Answers for the Upcoming Entrance Exam.
Then you are on the right page.
Admission into University of Maiduguri Teaching Hospital, Borno State is strictly based on merit.
Candidate has to score high in the Selection/Examination Process, to be able to secure admission.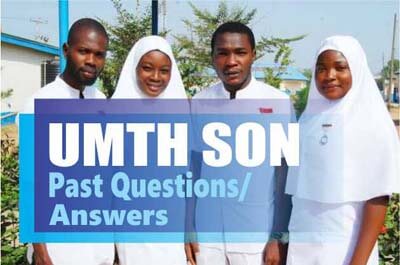 One of the perfect material you need right now to study ahead for the exam is the UMTH School of Nursing SON Past Questions and Answer.
As an intending student for UMTH Maduguri, we recommend you download and study the school past question and answer.
This will help you to prepare very well for her upcoming entrance exam.
UMTH School of Nursing Borno Requirement
Applicants must be between seventeen (17) and twenty four (24) years of age.
should possess five (5) credits in SSCE, WAEC, and NECO which must include:-
English Language,
Mathematics,
Physics,
Biology and
Chemistry
in not more than two (2) sittings.
Combination of WAEC and WAEC, NECO and NECO and WAEC and NECO are acceptable as two sittings.
National Business and Technical Examinations Board (NABTEB) is also acceptable in not more than two (2) sittings,
But cannot be combined with either WAEC or NECO.
What others are Downloading: School of Nursing Past Questions
University of Maiduguri Teaching Hospital SON Admission Form
Prospective student are to access the nursing school portal on www.umth.org.ng to acquire the form online.
Application forms for admission are obtainable after payment of N5000
All payment should be made into UMTH REMITA platform "UMTH SCHOOLS ACCOUNT".
Candidates are to present original and photocopy of evidence of payment to the School Cashier and obtain hospital receipt and use same to collect application form.
All completed application forms should be returned to the Coordinators/Principal's office,
Completed application forms must be accompanied with:
a) Two (2) recent passport photographs on a white background.
b) Photocopies of all credentials.
c) Indigene/certificate and birth certificate or declaration of age.
Application Guideline
Step 1. Please visit Remita website: www.remita.net a page will be displayed.
Click on "Pay a Federal Government Agency"
Step 2. Fill the form that displays as follows:
Name of MDA: University of Maiduguri Teaching Hospital
Name of service/purpose: UMTH Schools
Description:
Amount to pay:
Payer's full name:
Payer's email:
Payer's phone:
Step 3. Key in the characters provided in the image into the box below and click proceed to payment.
This step can be repeated until the keyed in the character is accepted.
Step 4. Once step 3 is successful the Remita Retrieval Reference (RRR) number will be generated.
(Keep the generated code for reference purposes).
Step 5. You now choose your option for mode of payment either by internet banking, directed payment at any bank branch or by Credit card.
Please copy and paste the RRR Number on online admission form and come along with the evidence of payment to the schools for verification during the entrance exams.
Mode of Screening – Test and Selection Interview.
1st Stage – Written Test.
2nd Stage – Oral Interview.
3rd Stage – Original O-level Result Screening.
How to get UMTH School of Nursing Past Questions
The cost of the newly updated University of Maiduguri Teaching Hospital Past Questions and Answers is 1700.
Below are the steps to take to download your copy of the entrance exam past questions/Answer.
Make a Call.
Call or whatsapp us on 08051311885 for the account number to make payment and how to received your complete copy of the past questions to be sent directly to your email address or whatsapp number.
Mode of Payment.
Mobile Transfer, POS and Direct Bank Deposit.
After Payment
Send us the following
Depositor Name:
Name of Product Paid for:
Valid email address.
Call or whatsapp us for your payment verification and confirmation.
DELIVERY ASSURANCE
We will deliver the past question to you 10 mins after confirmation of payment to the email you will send to us.