Do you want to download Taraba State School of Nursing Jalingo Past Questions and Answers for the upcoming Aptitude Test.
Then you are on the right page.
Admission into the Taraba State College of Nursing and Midwifery TSCNM Jalingo is strictly based on merit.
Candidate has to score high in the Aptitude Test, to be able to secure admission.
One of the perfect material you need right now to study ahead for the exam is the School of Nursing Jalingo Past Questions and Answer.
As an intending student for SON Jalingo, we recommend you download and study the school past question and answer.
This will help you to prepare very well for her upcoming entrance exam.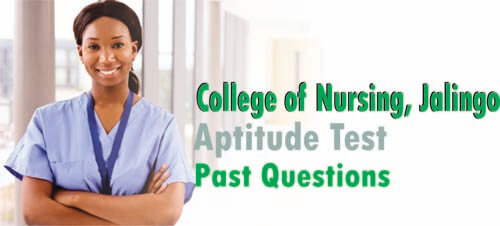 The Objectives of the College are:-
To provide full-time courses of instruct Councils and training in Nursing and Midwifery.
To provide courses of In-service training, workshops and seminars for members of the public and private sectors.
Mission of the College.
To train and prepare diverse health leaders.
Conduct research and provide public with focus.
Promoting health quality and equity.
What others are downloading: School of Nursing Past Questions
Taraba State School of Nursing Jalingo Requirement
The Basic General Nursing is a three 3 years program.
Olevel Qualification.
Candidate must have four (4) passes including
English.
Mathematics.
Physics.
Chemistry and,
Biology.
In not more than two setting.
College of Nursing Jalingo Admission Form
Application forms for admission are obtainable in the college (Friday and Saturday Only) after payment of 5000 into the school account.
Prospective student are to access the nursing school portal on https://tscnmjalingo.edu.ng to acquire the form online.
Application Guidelines
i. Log into www.tscnmjalingo.edu.ng
ii. Click on "Apply Now"
iii. Create an account on school portal
iv. Use your 'Username' and 'Password' to 'log in'
v. Make payment for application form via ATM card
vi. Fill the form carefully and submit online
vii. Print your payment slip, Application Form and Acknowledgment form.
How to Get College of Nursing Jalingo Past Questions
The cost of the newly updated Taraba State College of Nursing Jalingo Past Questions and Answers is 1700.
Below are the steps to take to download your copy of the entrance exam past questions/Answer.
Make a Call.
Call or whatsapp us on 08051311885 for the account number to make payment and how to received your complete copy of the past questions to be sent directly to your email address or whatsapp number.
Mode of Payment.
Mobile Transfer, POS and Direct Bank Deposit.
After Payment
Send us the following
Depositor Name:
Name of Product Paid for:
Valid email address.
Call or whatsapp us for your payment verification and confirmation.
DELIVERY ASSURANCE
We will deliver the past question to you 10 mins after confirmation of payment to the email you will send to us.