Download Now! Business Administration Exam Past Questions for National Open University NOUN.
The Faculty of Management Science in National Open University house three departments which run 14 programmes comprising of seven bachelor of science and seven post graduate.
B.Sc in Business Administration is one of the programme run in the department of Administration
Undergraduate programmes in this Faculty are for a minimum of eight (8) and maximum of sixteen (16)
semesters; for direct entry a minimum of six (6) and maximum of twelve (12) semesters. For Postgraduate
The minimum period for the completion of the programme is six (6) semesters and a maximum
of ten (10) semesters
we at stcharlesedu.com are glad to inform you that we now have NOUN Business Administration Past Question from 1st to 2nd Semester at all level (100-300) available for download.
Summary Benefit of Past Questions.
Pointer to Area of Concentration.
Predict the outcome of the upcoming exam question.
Let one know if he/she has adequately prepared for the exam.
Read Also: What others are downloading NOUN Past Exam Questions Paper for all courses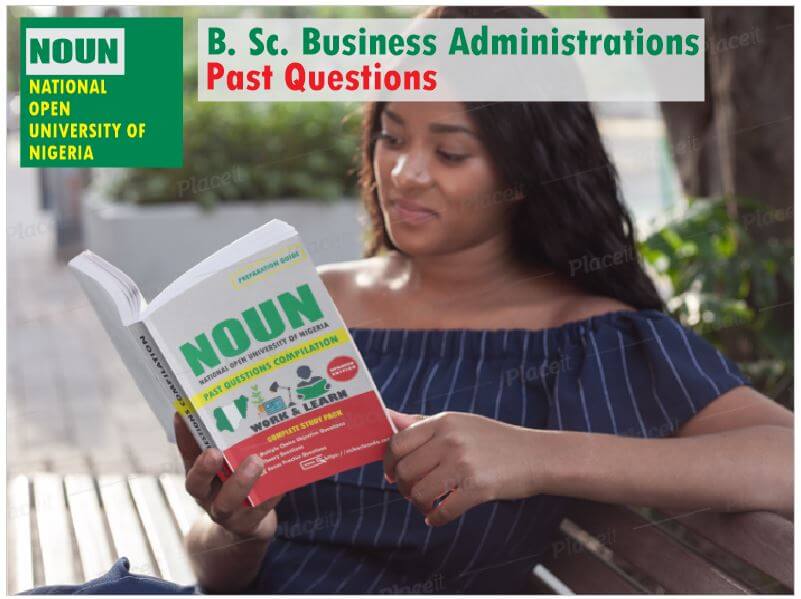 NOUN Courses for Business Administration.
Outline of Course Structure: The B. Sc., Honours, Business Administration
See below list of Business Administration Programme Courses Past Questions Available for Download.
NOUN Business Administration Past Questions
1st Semester 100 Level Exam Questions
| | |
| --- | --- |
| Course Code | Course Title |
| CIT 101 | Introduction to Computer Science |
| CSS 121 | Introduction to Psychology |
| ECO 121 | Principles of Economics I |
| GST 101 | Use of English and Communication Skills I |
| GST 105 | History and Philosophy of Science |
| GST 107 | The Good Study Guide |
| MTH 105 | Mathematics for Management Sciences I |
| FMS 105 | Elements of Management I |
2nd Semester 100 Level Exam Questions
| | |
| --- | --- |
| Course Code | Course Title |
| ECO122 | Principles of Economics II |
| GST 102 | Use of English and Communication Skills II |
| MKT 108 | Introduction to Marketing |
| MTH 106 | Mathematics for Management Sciences II |
| FMS 106 | Elements of Management II |
| CRD 124 | Introduction to Cooperatives |
ACC 203 Exam Questions for 200 Level
1st Semester 200 Level Exam Questions
| | |
| --- | --- |
| Course Code | Course Title |
| GST 201 | Nigerian People and Culture |
| GST 203 | Introduction to Philosophy and Logic |
| STT 205 | Statistics for Management Sciences I |
| ACC 203 | Introduction to Financial Accounting I |
| BUS 205 | Introduction to Business |
| FMS 207 | Business Communication |
| BFN 209 | Introduction to Finance |
ENT 210 Exam Questions for 200 Level 
2nd Semester 200 Level Exam Questions
| | |
| --- | --- |
| Course Code | Course Title |
| GST 202 | Fundamentals of Peace Studies and Conflict Resolution |
| STT 206 | Statistics for Management Sciences II |
| ACC 204 | Introduction to Financial Accounting II |
| ACC 206 | Introduction to Cost & Mgt. Accounting |
| CIT 208 | Applications of Computer |
| ENT 210 | Entrepreneurship Studies |
| ECO 231 | Micro Economic Theory 1 |
NOUN MKT 306 Exam Questions for 300 Level
1st Semester 300 Level Exam Questions
| | |
| --- | --- |
| Course Code | Course Title |
| GST 301 | Entrepreneurship Studies |
| ACC 313 | Management Accounting |
| FMS 317 | Production Management |
| ENT 307 | Natural Resources Management |
| BUS 325 | Human Resources Management |
| ENT 309 | Events Management |
| BFN 303 | Financial Management |
| POL 111 | Elements of Government |
2nd Semester 300 Level Exam Questions
| | |
| --- | --- |
| Course Code | Course Title |
| CLL 307 | Commercial Law |
| ENT 302 | Feasibilities and Business Planning |
| MKT 306 | Distribution and Sales Management |
| BUS 322 | Organisational Behaviour |
| FMS 304 | Research Methodology |
| MKT 306 | Distribution and Sales Management |
| | Management Theory |