How to Check WAEC Date of Birth online for any given Exam Year…Many a student never knew the luck they have, if during admission process or passing out, nothing wrong or incorrect detail are found in their WAEC Result.
Some mobilized qualified corps member, are prevented from going to services due to date of birth issue, that was notice very late in their Olevel result/Certificate.
To be able to avoid and amend such case on time, In this post, I will teach or assist you on how to view the date of birth that is used in your WAEC Certificate or Result.
WAEC Date of Birth Checking Requirements.
i. WAEC Verification Pin (call/chat with us if you need one)
ii. Exam Type (School May/June or Private Nov/Dec)
iii. Candidate Examination Number and Exam Year.
How to Check WAEC Date of Birth Online – Procedure
1. visit the link below by clicking on it, or copy and paste it in your web browser address bar
https://www.waeconline.org.ng/verification/verification/Inddefault.aspx?unid=
2. Type in the WAEC Verification Reference Pin
3. Select the Exam Type (WASSCE for School or WASSCE for Private Candidate)
4. Select the Exam Year. example 2010
5. Finally, click on Check Now to view or see the WAEC Date of Birth
6. Print to make a Hard Copy of it.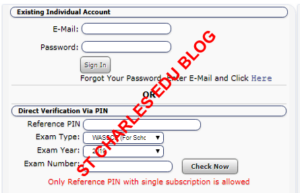 Benefit on Why you should Check if the Date of Birth in Your WAEC Result is the Correct One
1. It help one to avoid or reduce a lot of stress correcting it on time, when you found out is not correct.
2. It put you on alert process, on the way forward before any eventuality.
3. Lastly, it inform / prevent you from being thrown out of school for incorrect details.
Click Like below to Join NYSC Change of Date of Birth Facebook Page

How to Obtain WAEC DOB Verification Pin
To get your waec verification pin to enable you view or check your correct waec date of birth online.
Call or whatsapp me on 08051311885 on how to obtain your reference pin. Cost is N2000