Nigeria's police was first established in 1820. The first person to have the highest rank in all the police is commissioner general colonel KK. In 1879 a 1,200-member armed paramilitary Hausa Constabulary was formed. In 1896 the Lagos Police was established.
The need by the present leadership to reposition the Force through capacity building calls for the recruitment of Police Officers of lower cadre into the Nigeria Police Force. In order to align with International standard and best practices and the United Nation Standard of Policing, the Force needs virile and dynamic police officers for better service delivery and mitigiating emerging security challenges. To this end, our goal is to ensure the safety of lives and property of the Nigeria citizens and make Nigeria safer and more secured for economic development and growth.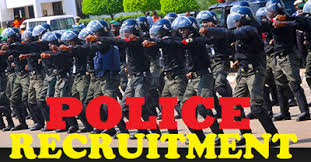 Nigeria Police Recruitment Requirements
1. Applicants shall be of Nigerian origin by birth and possess National Identity Number (NIN)
2. Applicants must possess a minimum of 5 credits in not more than 2 sittings in WASSCE/GCE/NECO/NABTEB with credit passess in English and Mathematics.
3. Applicants must be aged between 18-25 years by March 2018.
4. Applicants must be medically, physically, and psychologically fit and must not be less than 1.67mtrs tall for male and 1.64mtrs tall for female.
7. Applicants must print their completed online forms, guarantor form and submit it at the examination / screening and recruitment centre.
8. All appllicants MUST have readily available scanned copy of their
– SSCE/GCE/NABTEB/NECO Result
– Birth Certificate Result
– FSLC Result
– LGA Certificate
– Passport Photograph
Nigeria Police Recruitment Requirements/Forms – How to Apply
ALL applications must be submitted ONLINE.
i. You MUST have a functional Email Address and Mobile Phone Number before you begin your application:
ii. Fill and SUBMIT the Online Form. (Review the information before final submission).
iii. Ensure that you print out the information that is sent automatically to your Email, and do not forget to copy and save your REGISTRATION NUMBER for future correspondences. The NUMBER Is case sensitive please.
iv. You would be required to present a hardcopy of email message sent to you if you are shortlisted and contacted for the next stage of the recruitment process.