Pti-Effurun School Logo
How to Check Your PTI
Result/Admission Status Free
1. Visit the school portal link http://portal.pti.edu.ng/ApplicantLogin.aspx
1b. To check Result, click on Check Entrance Results

1c. To check Admission Status, click on check Admission Status

Remember to click on logout when you are done.
How to Generate Remita Reference
Code to enable one print out PTI Admission Letter
For you to be able to print out your pti admission letter, you must
have been admitted/given admission. Read the steps above on how to check your
admission status
How to Generate the RRR Code
1. Visit the school portal link http://portal.pti.edu.ng/ApplicantLogin.aspx
2. Type in your username and password in the space provided for it and
click on login,
3. On the page that appear, click on Print Admission Letter.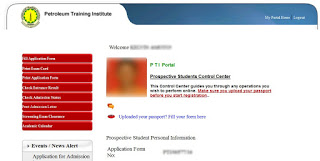 A message
will show up stating"Kindly Generate Your Admission
Letter Fee Remita Reference in the next page and go make Payment at the Bank!"
This happens when you are a first timer and have not generated or make
payment for the rrr code

4. Click on ok to continue.
5. on the next page click on the button [click->> Generate Remita Payment Reference].
Make a print out of it i.e hard copy and take it to the bank for
payment

How to Print out the Admission
Letter
6. After payment, return to the portal by logging in, click on print
Admission Letter.
Note:
You must have Adobe PDF installed, to be able to download and view the
admission letter
If after making payment at the bank and the system still refer you to the RRR code page, then visit the
school ICT centre