COLLEGE OF EDUCATION WARRI IN AFFILIATION WITH DELTA STATE UNIVERSITY, ABRAKA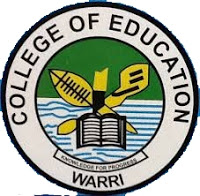 The College of Education, Warri in Affiliation with the Delta State University,
Abraka will conduct the 2016/2017 Screening exercise for candidates who scored
180 and above in the 2016/2017
Unified Tertiary Matriculation Examination (UTME) for candidates who chose the
institution in the following courses
(1) B.Sc (Ed) Political
Science
(2) B.Sc (Ed) Economics
(3) B.Sc (Ed) Business
(4) B.Sc (Ed) Chemistry
(5) B.Sc (Ed) Geography
(6) B.Sc (Ed) Physics
(7) B.Sc (Ed) Integrated
Science
(8) B.A(Ed) History &
International Studies
(9) B.Sc (Ed) Social
Studies
(10) B.Sc (Ed) Biology
(11) B.Sc (Ed) Home
Economics
(12) B.A(Ed) Religious
Studies
(13) B.Sc (Ed) Physical And
Health Education
(14) B.Sc (Ed) Mathematics
(15) B.A(Ed) English
Language
(16) B.Sc (Ed) Agricultural
Science
Applications are also invited from candidates who scored 180 and above
in the 2016/2017 UTME who may wish to change their institutions of first and
second choice to the College Deqree
Programme.
Note that the above courses have been accredited by the National
Universities Commission (NUC) and the admitted candidates, on graduation, will
participate in the National Youth Service Corps (NYSC) Programme.
METHOD OF APPLICATION
Prospective candidates are to process their forms online using the College
Students Portal
https://coewarri.waeup.org
.
The non- refundable fee of Two Thousand Five Hundred Naira (N2 500 00) will be
paid online.
REQUIREMENTS FOR THE SCREENING EXERCISE
Candidates are to come to the screening centre with the following:
(i) JAMB Result Slip (2016/2017)
(ii) O/Level Results
(iii) A copy of the application form
(iv) Copy of online receipt
CLOSING DATE
All applicants should have completed their Application by 23rd
September, 2016.
Please note that candidates who do not posses the 5 relevant subjects
which include English and Mathematics at credit level need not apply.
DATE OF SCREENING EXERCISE: Wednesday, 28th September, 2016.
Venue: COLLEGE OF EDUCATION, WARRI.
Time: 10.00arn Prompt.
SIGNED:
DNS. MRS. ALERO UROWAYINO
REGISTRAR