Download Now! Accounting ACC Exam Past Questions for National Open University NOUN.
The Faculty of Management Science in National Open University has four departments which run 14 programmes comprising of seven bachelor of science and seven post graduate.
B.Sc in Accounting is one of the programme run in the department of financial studies
Most Bsc Accounting Noun student or Worker do not have the luxury of time or are limited in time to go in physical search of past question.
That why, we at stcharlesedu.com are glad to inform you that we now have up-to-date Noun bsc Accounting past questions 100L-500 level, first and second semester available for download.
Summary Benefit of Past Question.
Pointer to Area of Concentration.
Predict the outcome of the upcoming exam question.
Let one know if he/she has adequately prepared for the exam.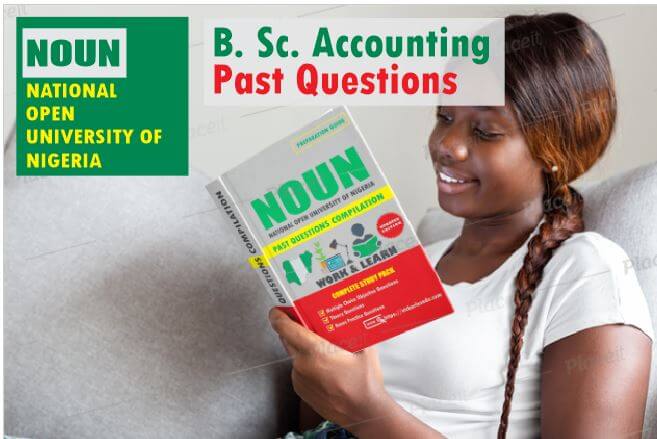 NOUN Courses for Accounting
See below list of Accounting Programme Courses Past Questions Available for Download.
Outline of Course Structure for Bachelor of Science in Accounting (B.Sc. Accounting)
Past Questions for NOUN Accounting ACC 100 Level to 400 Level
100 Level First Semester
| | |
| --- | --- |
| Course Code | Course Title |
| ACC101 | Elements of Book-Keeping I |
| BUS105 | Elements of Management I |
| MTH105 | Mathematics for Management Sciences I |
| GST107 | A Study Guide for the Distance Learner |
| GST105 | |
| GST101 | Use of English & Communication Skills I |
| ECO121 | Principles of Economics I |
100 Level Second Semester
| | |
| --- | --- |
| Course Code | Course Title |
| | |
| GST104 | Use of Library |
| ACC102 | Elements of Book-Keeping II |
| BUS106 | Elements of Management II |
| MTH106 | Mathematics for Management Sciences II |
| MKT108 | Introduction to Marketing |
| GST102 | Use of English & Communication Skills II |
| ECO122 | Principles of Economics II |
| BFN104 | Elements of Banking |
NOUN BUS 207 Past Questions for 200 Level
200 Level First Semester
| | |
| --- | --- |
| Course Code | Course Title |
| ECO231 | Micro Economic Theory I |
| BFN209 | Introduction to Finance |
| BUS207 | Business Communication |
| BUS205 | Introduction to Business |
| ACC203 | Introduction to Financial Accounting I |
| STT205 | Statistics for Management Sciences I |
| GST201 | |
| ACC201 | Taxation I |
200 Level Second Semester
| | |
| --- | --- |
| Course Code | Course Title |
| ENT202 | Introduction to Entrepreneurial Ventures |
| CIT202 | Applications of Computer in Business |
| ACC206 | Introduction to Cost and Management Accounting |
| ACC204 | Introduction to Financial Accounting II |
| STT206 | Statistics for Management Sciences II |
| GST202 | |
| ACC210 | Auditing I |
NOUN BFN 303 Past Questions for 300 Level,
300 Level First Semester
| | |
| --- | --- |
| Course Code | Course Title |
| BUS317 | Production Management |
| PAD305 | Elements of Government |
| BFN303 | Financial Management |
| GST302 | Business Creation and Growth |
| ACC313 | Management Accounting |
| ACC311 | Financial Accounting |
| CLL307 | Commercial Law |
ACC 306 Past Questions for NOUN 300 Level
300 Level Second Semester
| | |
| --- | --- |
| Course Code | Course Title |
| BFN310 | Micro credit policy and Institutions |
| ENT304 | Leadership and Corporate Governance |
| FMS304 | Research Methodology |
| BFN304 | Financial Systems |
| ACC318 | Taxation II |
| MKT306 | Distribution and Sales Management |
| ACC306 | Cost Accounting |
400 Level First Semester
| | |
| --- | --- |
| Course Code | Course Title |
| BFN405 | Bank Lending and Loan Administration |
| BFN409 | Project Evaluation |
| ACC407 | |
| BUS427 | Business Policy & Strategy I |
| BUS401 | Management Information System |
| ACC419 | Advanced Financial Accounting |
| ACC411 | Auditing II |
| BFN411 | Public Financial Management |
ACC 313 Exam Past Questions for NOUN,
400 Level Second Semester
| | |
| --- | --- |
| Course Code | Course Title |
| BUS428 | Business Policy & Strategy II |
| BUS406 | Analysis for Business Decisions |
| ACC450 | Research Project |
| ACC426 | International Accounting |
| ACC418 | Public Sector Accounting and Finance |