Before you emback to your polling unit to cast your vote in the forthcoming elections in Nigeria, it is highly suggested you make use of the online INEC voters card verification portal to know the status of your PVC. The INEC website will also let you know your voters identification number (VIN)
How to Check INEC Permanent Voter Card id Status Online
To view INEC Voters Card Status in Nigeria, follow the step below
1. visit the voters card Status link website = http://voterreg.inecnigeria.org/
2. Select Your State of Residence. (the state you did your registration)
3. Type in the Name you provided as your surname during registeration.
4. If available type in your Voters Identification Number (VIN) – This field is optional or If you Can't remember your VIN then move to step 5
5. Enter the Date of Birth you supplied during Permanent Voters Card PVC Registration
6. Click on Search and wait for the result to populate.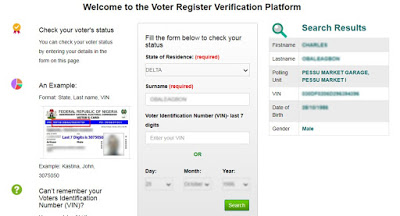 INEC Permanent Voters Card Registration Detail
If all detail are enter correctly,the Search results will show you the following data
First Name,
Last Name
Name of Polling Unit Registered
Your Personal Indetification Number – VIN
Date of Birth and lastly
Gender
How to Check INEC Polling Unit in Nigeria Online
At a polling unit, a citizen can either register to vote or vote. It is advisable to select a Polling Unit close to your area of residence due to the restricted movement on election days.
To view polling units, follow the steps outline below
1. Visit the INEC polling units link =
http://52.23.145.6/web/site/polling
2. Select the State (where you registered or where you intend doing your registration)
3. Select the Local Government Area (LGA)
4. Select Ward
5. Select Polling unit
6. Click on View Detail to display Voters Card Polling Unit details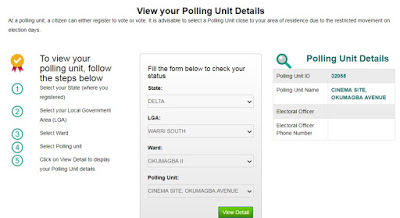 INEC Polling Units Detail
If all detail are enter correctly, the Search results will show you the following Polling Unit Details
Polling Unit ID
Polling Unit Name
Electoral Officer
Electoral Officer
Phone Number