UNIVERSITY OF LAGOS, UNILAG POST GRADUATE, MASTER, PHD APPLICATION FORM REGISTRATION PROCEDURE
First, for you to start the registration, make sure you have gone through the
admission requirement, you can do so by visiting this link
http://spgs.unilag.edu.ng/prospectivestudents.php
and if satisfy that your meet the admission requirement follow the steps outline below to get yourself register for unilag post graduate, master and phd programme
Step-1
Sign Up
Click on Start a fresh Application if you are yet to sign-up to begin a
new application

Step-2
Start Application Menu
On the application type: drop down menu, select postgraduate, type in your surname, first name, middle
name, mobile number and a valid email address as indicated on the image below.
Please note that your will not be able to update your names or
application type after clicking on continue.
To proceed check on "I agree to the Terms and Conditions" and
click on continue.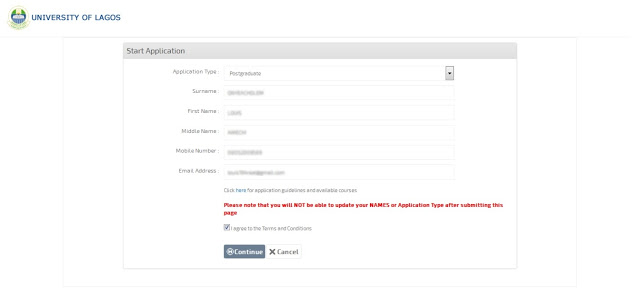 a pop up warning message will show [message content – are you sure you
have gone through the application guidelines and available course]- click on ok
to proceed.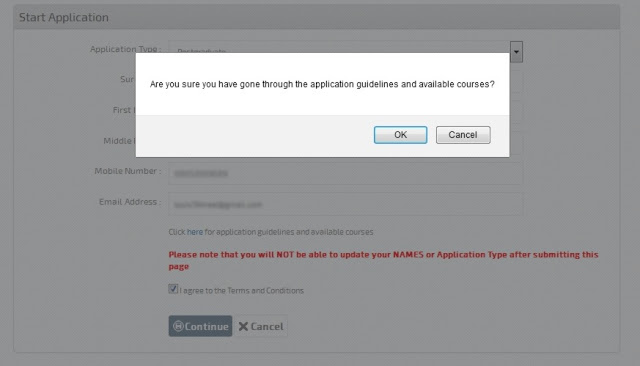 Step-3
Payment Voucher
On this page you will be asked to print out your payment
advice/reference number, click on the link, [here] to download it
– If you choose to pay online using your ATM Card, then click on Pay
Online Now

Step-4
Tranzgate
A. From the Drop down menu, select your card issue – here i used
"VERVE" click on continue
B. write down the generated Transaction Reference Number – in case you
have problem during the online payment, click on pay with debit or Credit Card
C.Type in your debit or Credit card information and click on pay

Step-5
Payment Confirmation
If the payment was successful, you will be presented with a message
Payment Successful. You can now login and continue your application,
please ensure you save your RefNo. To
proceed click on Login to continue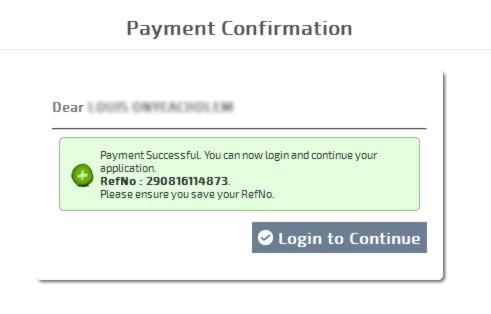 Step-6
Application Login
Type in your Reference No. as the username and your Surname (small
letter) as the password, click on login to proceed.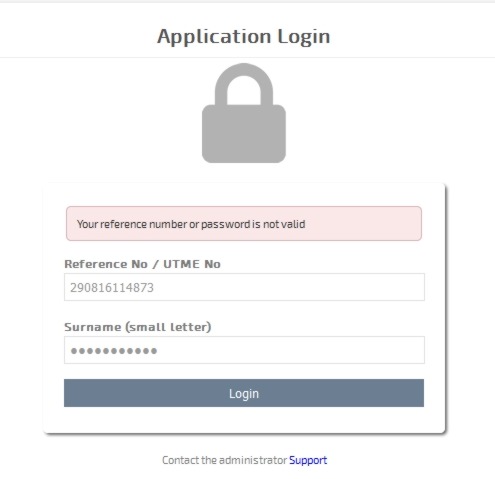 Step-7
Application Form
To upload your scan passport photograph, click on select passport then
click on upload
Fill all necessary details from leter c – j
Click on save and continue to proceed to the next detail after filling.
When done, preview your filled in information by click on "click
here to preview your application form before submission".
Please note that after submission, you will no longer be able to edit
the application or a fee will b charge to be able to do so.
check on "i here by confirm…….."
Click on Submit Application to make final submission.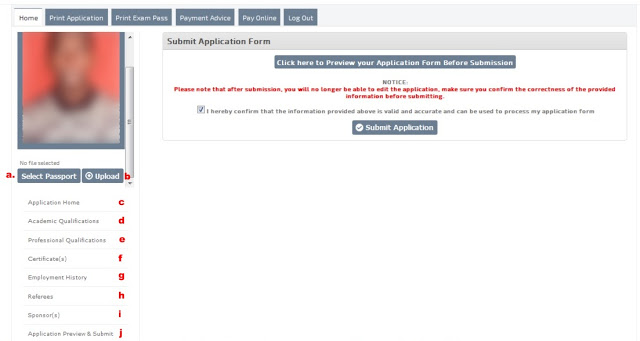 Print Application Form
After clicking on submit application form. click on " Click here
to Print application form

Print Exam Pass
This option is available/active when schedule date for examination has
be set.
Re-Open Application Form
Please note that this will invalidate your previous submission, and you
will need to submit again.
You will need to pay a fee of 1,000.00 Naira.
Payment Advice
Used to reprint the online receipt of postgraduate application fee
Pay Online
Log Out
If you are through, and want to sign out from your application page
If you have any questions, comments, or suggestion feel free to let us know.
If you think my post was something worth reading; then please share it with your social media friends. Sharing is caring! Right?