DELTA STATE SCHOOL
OF MARINE TECHNOLOGY, BURUTU
DELTA STATE
From: Ag.
Registrar
TO: Candidates Offered Admission
Ref: DESOMATEC/REG/ACAD/ADM/002
Date:
11th November, 2015.
IMPORTANT NOTICE:


FIRST BATCH ADMISSION LIST, NATIONAL DIPLOMA (ND) 2015/2016
ACADEMIC SESSION
This is to inform candidates offered provisional admission
(First Batch) to various courses in the National Diploma Programme, Delta State
School of Marine Technology, Burutu, for the 2015/2016 academic session, that
they are expected to provide the following for their registration:
1.
SSCE/GCE/NECO etc Statement of results (original and
five photocopies). Computer print- out of private candidates/SSCE results duly
certified by the Principal (original stamped and five photocopies)
2.
Letter of reference from a reputable
Clergyman/Lawyer/Senior Civil Servant (original and five photocopies)
3.
Birth Certificate/sworn declaration of Age (original
and five photocopies)
4.
School testimonial (original and five photocopies)
5.
12 copies of passport photograph with red background (To be
taken at the School for the purpose of uniformity at a cost of N500.00).
Payment to be made at the Bursary Department of the School.
6.
All candidates who obtained their entry qualifications
i.e. WASC, GCE, NECO etc, on or before 2009 must tender the original of their
certificates.
7.
The use of affidavit in lieu of statement of result
will not be accepted.
8.
Candidates are advised to make the following payments
in the Bank listed against each item before coming for screening/clearance at
the admissions office:
S/N

FEES /LEVY

AMOUNT

BANK CHARGES

TOTAL AMOUNT

BANK

MODE OF PAYMENT

1

ACCEPTANC

/
MEDICAL LEVY

N12,500

1000

13,500

ZENITH

BANK

PAY-DIRECT

2

SWIMMING
COMPETENCE TRAINING / LIFE VEST

N11,500

–

11,500

ECOBANK

Account
No: 1392015732
Account Name: Delta
State School
of Marine Technology, Burutu.
Note: Candidates are to commence screening exercise
between Monday, 16th November to Friday, 27th November, 2015. Any candidate who
fails to show up for the period it will last, would be deemed to have rejected
the offer and therefore, the offer would lapse.
———————————————————————————————-
Are you experiencing any of the problems listed below, that is preventing you in
processing/completing your Delta State School of Marine Technology, Burutu online Clearance:
• Problem in generating your Paydirect Deposit Slip
• Difficulty in downloading/printing out of your Acceptance Letter
• Difficulty in downloading/printing out of your Clearance Card
• Difficulty in checking your admission status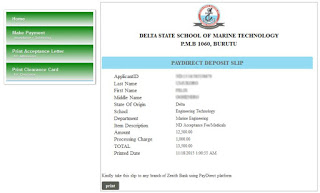 sch of marine burutu online-clearance-acceptance-fee-payment
The online clearance is very strict. But relax and follow directives meet us at the address below for a smooth online clearance processing
CONTACT ADDRESS
ST. CHARLES EDUCATIONAL SERVICES
(Jamb Accredited Registration Centre for 2014 UTME Online Processing)
6 Ejemudarho Street (situated at Fasco Table Water Building) Up-stare,
Opposite Okere Urhobo Kingdom Palace Main Gate,
Off Okumagba Avenue Road & Cinema Site/Junction,
Warn", Delta State,
mobile no: 08051311885
email :charlisco@gmail.com